Congenital Pseudarthrosis of the Tibia (CPT)
Key Points:
• Congenital pseudarthrosis of the tibia is a rare and challenging condition to treat
• CPT is a periosteal disease creating a fibrous hamartoma at the tibia and/or fibula
• It is often associated with neurofibromatosis or fibrous dysplasia
• There exists a constellation of typical radiographic findings and a range in severity
• Successful treatment includes achieving union AND preventing re-fracture
• Emerging evidence suggests benefit of cross-union of tibia and fibula
• Must consider associated deformities in treatment plan (foot and ankle, leg length discrepancy)
Description:
Congenital pseudarthrosis of the tibia (CPT) involves nonunion of a tibial fracture occurring through dysplastic bone. It can occur spontaneously or as a result of minor trauma generally presenting before 2 years of age. The exact pathophysiology remains unclear but is known to involve pathologic periosteum resulting in abnormal bone turnover. CPT includes a range of clinical and radiographic presentations which may include pseudoarthrosis of the fibula. Many treatments have been proposed from amputation to reconstruction with varying success rates. The main complications of surgical treatment include failure to achieve union, deformity, and re-fracture. Newer-described techniques have shown promising results in terms of high success rates with minimal complications.
Epidemiology:
Rare condition with few epidemiological studies
Reported incidence varies widely
Age at which fracture occurs

"Early onset" < 4 years old
"Late onset" > 4 years old
Clinical Findings:
Most commonly unilateral but can be bilateral
Anterolateral bowing of the lower leg
May present as fracture or progress to fracture in children of walking age
May be mobile or stiff
Important to elicit history of previous surgery if present as may affect treatment
May have associated findings of neurofibromatosis

Cafe-au-lait spots
Neurofibromas
Lisch nodules
Imaging Studies:
May involve tibia and/or fibula
Location: junction mid-distal 1/3rd most common
Bone may be atrophic vs hypertrophic (rare)
Obliteration of medullary canal
Fibular or Tibial station: distance of distal fibular physis relative to the talar plateau (Paley, 2021)
Often proximal migration of the distal segment
Progression from bowing of the bone to fracture
May have associated foot and ankle deformity
Fig 1. AP and Lateral XR of congenital pseudarthrosis of the tibia (CPT) with fibular involvement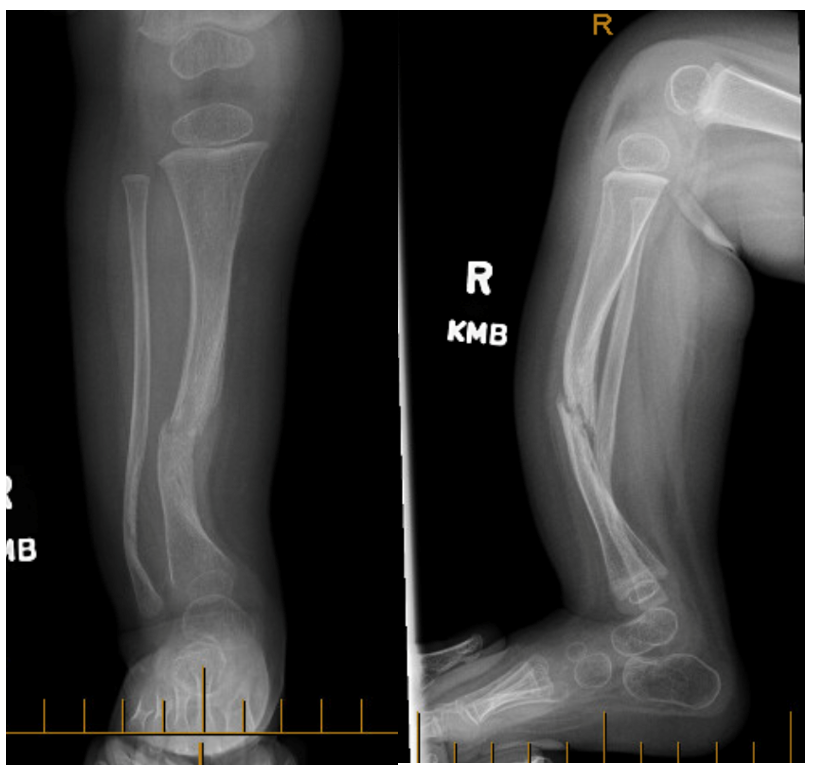 • Several classification systems exist based mainly on radiographic appearance and bone morphology.
• Few guide management or predict outcome
• Crawford (Crawford, 1986): focus on degree of tibial dysplasia and its morphology; most commonly used
• Choi (Choi, COS 2011): main focus on fibula morphology and station. First to consider proximal fibular migration
• El-Rosasy-Paley-Herzenberg (El-Rosasy, 2007): considers bone end morphology, mobility at pseudarthrosis site and history of previous surgery. First classification to guide treatment
• Paley (Paley, 2019): considers integrity of tibia and fibula as well as their station in order to guide treatment

Treatment:
Non-operative treatment: Clamshell orthosis or patellar tendon bearing (PTB) orthosis

Indication: child of weight-bearing age with deformity, no fracture present
Goal: prevent further deformity and fracture
Technique: Brace until skeletal maturity

Operative treatment: Many techniques have been described

Indication: Fracture or pseudarthrosis, deformity
Goal: achieve union, maintain union (prevent re-fracture), correct deformity
General approach

Realignment of the limb (osteotomies and shortening)
Resection of the hamartoma
Fixation of tibia +/- fibula: circular frame and/or intra-medullary rod; may supplement with plate
Grafting: bone (autogenous iliac crest) +/- periosteal +/- BMP

Select Techniques:

McFarland bypass fibular graft (McFarland, 1951)

Indication: Anterolateral bowing
Goal: Prevent progression to fracture
Technique: Allograft fibula in concavity of the deformity to act as a strut for structural support
VIDEO: https://www.posnacademy.org/media/McFarland+Bypass+Grafting+for+Tibial+Pseudarthrosis/0_osgk5bk0/19139652

Contralateral vascularized fibular graft (El-Gammal, 2021) (Dormans, 1990)
Choi (Choi, JPO 2011) « 4 in 1 » Osteosynthesis technique: converging fibula and tibia bone ends together
Cross-Union Technique (Paley, 2021): Creation of a synostosis between tibia and fibula
Fig 2. Intra-operative photograph of bone grafting after resection of hamartoma during cross-union technique for congenital pseudarthrosis of the tibia (CPT) with fibular involvemen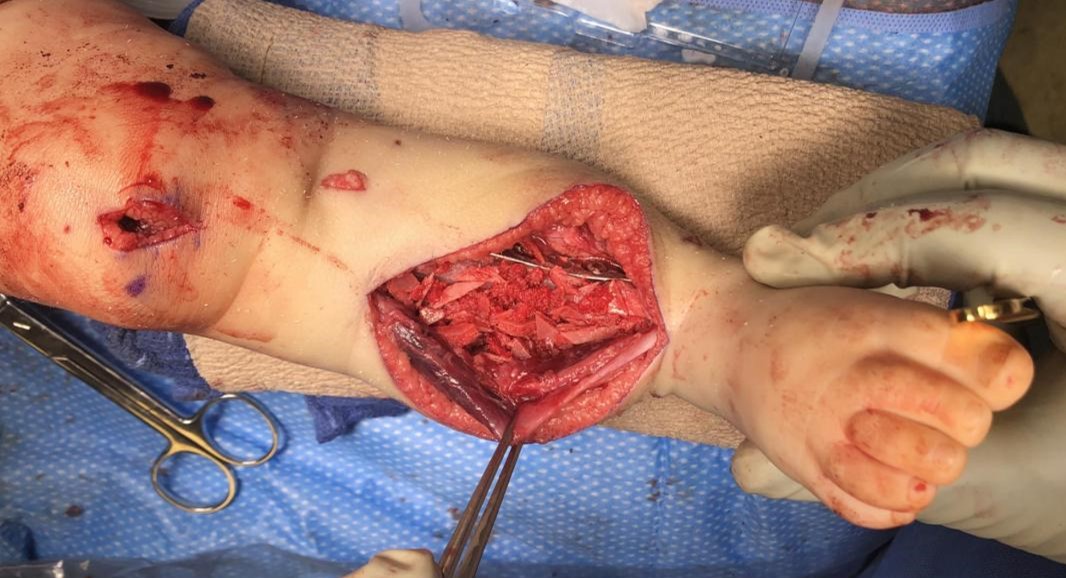 **Often a combination of the above (« Kitchen Sink »): VIDEO: https://www.posnacademy.org/media/Congenital+Pseudarthrosis+of+the+Tibia/1_bw8bxp50
Pharmacologic treatment: (Schindeler, 2011)

Perioperative bisphosphonate therapy (zoledronic acid)
Intra-operative addition of BMP
Due to overactivity of osteoclasts causing bone graft resorption and under production of BMP by osteoblasts, bisphosphonate-BMP combination may lead to increased bone formation
Amputation: Syme or Boyd amputations

Indications: recalcitrant pseudarthrosis, severe LLD, non-reconstructable and dysfunctional deformity (Westberry, 2018) (McCarthy, 1982)
Complications:
(Dobbs, 2004) (Paley, 2021)
Persistent or recurrent pseudarthrosis (failure to achieve union)
Implant failure or migration
Refracture
Ankle stiffness
Deformity

Ankle valgus
Genu valgum
Foot deformity

Residual leg length discrepancy
Negative prognostic factors - (Paley 2019) (Choi, COS 2011) (Zargarbashi, 2021)

Neurofibromatosis
Younger age at treatment
Previous failed treatment
Atrophic bone ends
Concurrent fibular pseudarthrosis
Distal third tibial pseudarthrosis
Related Videos:
Peer Reviewed Video Learning
View Related Videos
References:
1. Cho T-J, Seo JB, Lee HR, Chung CY, Choi IH. Biologic characteristics of fibrous hamartoma from congenital pseudarthrosis of the tibia associated with neurofibroumatosis type 1. J Bone Joint Surg Am. 2008;90(12):2735-2744. doi:10.2106/JBJS.H.00014
2. Choi IH, Lee SJ, Moon HJ, et al. "4-in-1 osteosynthesis" for atrophic-type congenital pseudarthrosis of the tibia. J Pediatr Orthop. 2011;31(6):697-704. doi:10.1097/BPO.0b013e318221ebce
3. Choi IH, Cho T-J, Moon HJ. Ilizarov treatment of congenital pseudarthrosis of the tibia: a multi-targeted approach using the Ilizarov technique. Clin Orthop Surg 2011;3:1-8.doi:10.4055/cios.2011.3.1.1
4. Crawford AH, Bagamery N. Osseous manifestations of neurofibromatosis in childhood. J Pediatr Orthop 1986;6:72–88. doi:10.1097/01241398-198601000-00015
5. Dobbs MB, Rich MM, Gordon JE, Szymanski DA, Schoenecker PL. Use of an intramedullary rod for treatment of congenital pseudarthrosis of the tibia: a long-term followup study. J Bone Joint Surg Am. 2004;86:1186-1197. doi:10.2106/00004623-200406000-00010
6. Dormans JP, Krajbich JI, Zuker R, Demuynk M. Congenital pseudarthrosis of the tibia: treatment with free vascularized fibular grafts. J Pediatr Orthop. 1990;10(5):623-628. doi:10.1097/01241398-199009000-00010
7. El-Gammal TA, El-Sayed A, Kotb MM, et al. Crawford Type IV Congenital Pseudarthrosis of the Tibia: Treatment With Vascularized Fibular Grafting and Outcome at Skeletal Maturity. J Pediatr Orthop. 2021;41(3):164-170. doi:10.1097/BPO.0000000000001751
8. El-Rosasy M, Paley D, Herzenberg J. Congenital pseudarthrosis of the tibia. In: Rozbruch S, Ilizarov S, eds. Limb Lengthening and Reconstruction Surgery. New York: Informa Healthcare, 2007:485-493.
9. Hefti F, Bollini G, Dungl P, et al. Congenital pseudarthrosis of the tibia: history, etiology, classification, and epidemiologic data. J Pediatr Orthop B. 2000;9(1):11-15. doi:10.1097/01202412-200001000-00003
10. Hermanns-Sachweh B, Senderek J, et al. Vascular changes in the periosteum of congenital pseudarthrosis of the tibia. Pathol Res Pract. 2005;201(4):305-312. doi:10.1016/j.prp.2004.09.013
11. Kesireddy, N.; Kheireldin, R.K.; Lu, A.; Cooper, J.; Liu, J.; Ebraheim, N.A. Current treatment of congenital pseudarthrosis of the tibia: a systematic review and meta-analysis. J Pediatr Orthop B. 2018;27(6):541-550. doi:10.1097/BPB.0000000000000524
12. McCarthy, R.E. Amputation for congenital pseudarthrosis of the tibia. Indications and techniques. Clin. Orthop. Relat. Res.1982, 58–61.
13. McFarland B. Pseudarthrosis of the tibia in childhood. J Bone Joint Surg Br. 1951;33:36-46. doi:10.1302/0301-620X.33B1.36
14. Paley D. Congenital pseudarthrosis of the tibia: biological and biomechanical considerations to achieve union and prevent refracture. J Child Orthop. 2019; 13(2):120-133. doi:10.1302/1863-2548.13.180147
15. Rastogi, Anuja; Agarwal, Anilb Surgical treatment options for congenital pseudarthrosis of tibia in children: cross-union versus other options: a systematic review, Journal of Pediatric Orthopaedics B: March 2022 - Volume 31 - Issue 2 - p 139-149 doi: 10.1097/BPB.0000000000000924
16. Schindeler A, Birke O, Yu NYC, et al. Distal tibial fracture repair in a neurofibromatosis type 1-deficient mouse treated with recombinant bone morphogenetic protein and a bisphosphonate. J Bone Joint Surg Br. 2011;93-B:1134-1139. doi:10.1302/0301-620X.93B8.25940
17. Shah, H.; Joseph, B.; Nair, B.V.S.; Kotian, D.B.; Choi, I.H.; Richards, B.S.; Johnston, C.; Madhuri, V.; Dobbs, M.B.; Dahl, M. What Factors Influence Union and Refracture of Congenital Pseudarthrosis of the Tibia? A Multicenter Long-term Study. J Pediatr Orthop. 2018;38(6):e332-e337. doi:10.1097/BPO.0000000000001172
18. Shannon CE, Huser AJ, Paley D. Cross-Union Surgery for Congenital Pseudarthrosis of the Tibia. Children (Basel). 2021;8(7):547. Published 2021 Jun 24. doi:10.3390/children8070547
19. Westberry DE, Carpenter AM, Tisch J, Wack LI. Amputation Outcomes in Congenital Pseudarthrosis of the Tibia. J Pediatr Orthop. 2018;38(8):e475-e481. doi:10.1097/BPO.0000000000001211
20. Zargarbashi R, Bagherpour A, Keshavarz-Fathi M, Panjavi B, Bagherpour Zarchi M. Prognosis of Congenital Pseudarthrosis of the Tibia: Effect of Site of Tibial Pseudarthrososis and Fibular Involvement [published online ahead of print, 2021 May 18]. J Pediatr Orthop. 2021;10.1097/BPO.0000000000001861. doi:10.1097/BPO.0000000000001861
Top Contributors:
Caroline Tougas, MD