Acute Atlantoaxial Rotary Subluxation (AARS)
Key Points:
Also known as rotatory dislocation, displacement, or fixation Important to differentiate from congenital muscular torticollis Vast majority can be managed with non-operative treatment by observation or traction
Description:
Rotational subluxation or dislocation of C1 on C2
Can develop from osseous or ligamentous abnormalities resulting from acquired or congenital disorders.
As a result of instability, excessive motion and spinal cord compression may occur at the atlantoaxial joint.
Epidemiology:

Anatomy
50% rotation of the cervical spine occurs at C1-C2.(Bogduk, 2000)
Transverse ligament integrity is relevant, an atlantodens interval (ADI) >5mm indicates incompetent ligament and denotes instability
Spinal canal stenosis can be secondary to severe rotation even with a competent transverse ligament.
Classification
Fielding and Hawkins Classification.(Fielding, 1977)[Figure 2]

Type 1: Unilateral facet subluxation with intact transverse ligament. Most common; dens acts as pivot
Type 2: Unilateral facet subluxation with ADI 3 to 5 mm. Associated with transverse ligament injury; facet acts as pivot
Type 3: Bilateral anterior facet displacement of > 5 mm. Rare, with risk of neurologic deficit
Type 4: Posterior displacement of atlas, associated with dens deficiency. Rare, high risk of neurologic deficit
​
Clinical Findings:
Cock-robin head position (rotation and contralateral tilt of the head in relation to the lateral mass of C1)
Neck pain (increased with attempted passive correction in acute cases)
Headache
Sternocleidomastoid spasticity on the side to which the chin is rotated
Decreased cervical spine range of motion
Plagiocephaly can be noted in chronic cases
Imaging Studies:
Radiographs:
Anteroposterior (AP), lateral, and open-mouth odontoid obtained in a position as neutral as possible
AP and open-mouth views:

Asymmetric distance between the lateral mass and dens is a common finding
Anteriorly displaced lateral mass will appear wider and closer to midline

Lateral view:

The lateral facet is translated anteriorly and appears wedged instead of oval shaped

Flexion-extension views can be used to measure (ADI) and prove instability

However, these may not be useful acutely in the presence of pain and muscle spasm
CT Scan
Will clearly demonstrate rotatory subluxation and remains the gold standard

May add dynamic CT with bilateral maximal rotation imaging
Can evaluate lateral inclination angle of C1: Classification of chronic AAR Fixation [Figure 1]

Grade 1 =0°; Grade 2= <20°; Grade 3 >20°.(Ishii, 2006)
MRI Provides soft tissue detail
Possible findings:

Spinal cord compression
Disruption of tranverse atlantal ligament
Bone or soft-tissue infection
Treatment:

Based on duration of symptoms and clinical presentation.(Warner, 2015)
Symptoms of less than 1 week duration:

Soft collar, therapy, NSAIDS and stretching exercise program.

>1 week but < 1month symptoms and persistent subluxation:

Hospital admission vs. home head halter traction therapy (5lbs)
Muscle relaxants and analgesics
Followed by postreduction immobilization (soft collar) for 4–6 weeks.

>1 month symptoms or subluxation:

Attempt halo traction for 3 weeks with gradual increased weight and ROM exercises to obtain reduction.
If reduction obtained, halo vest immobilization for 6 weeks.

> 3months duration, neuro deficits or failure of previous management

C1-2 open reduction, posterior spinal instrumentation and fusion.
There are a variety of techniques for arthrodesis. One method utilizes C1 lateral mass and C2 pars screws. (Hedequist, Spine 2008) Other options include C1-2 transarticular screws or sublaminar wiring. Instrumentation can be supplemented with halo vest immobilization. [Figure 3]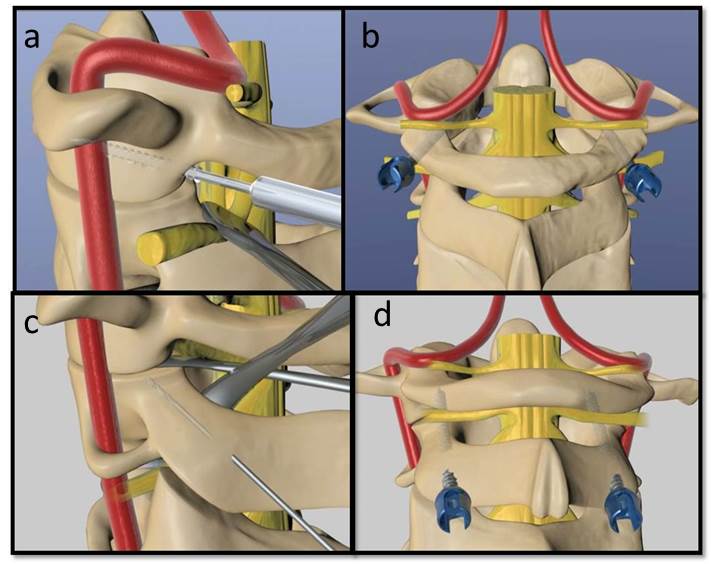 Complications:
Related Videos:
Peer Reviewed Video Learning
View Related Videos
References:
Bogduk N, Mercer S. Biomechanics of the cervical spine. I: Normal kinematics. Clinical biomechanics. Nov 2000;15(9):633-648.
Ishii K, Chiba K, Maruiwa H, Nakamura M, Matsumoto M, Toyama Y. Pathognomonic radiological signs for predicting prognosis in patients with chronic atlantoaxial rotatory fixation. Journal of neurosurgery. Spine. Nov 2006;5(5):385-391.
Fielding JW, Hawkins RJ. Atlanto-axial rotatory fixation. (Fixed rotatory subluxation of the atlanto-axial joint). The Journal of bone and joint surgery. American volume. Jan 1977;59(1):37-44.
Warner WC, Hedequist DJ: Cervical Spine injuries in Children. In: Beaty J, Kasser J, eds. Fractures in Children. Vol 1. 8th ed. Philadelphia, PA: Lippincott Williams & Wilkins; 2015: 845-898.
Hedequist D, Hresko T, Proctor M. Modern cervical spine instrumentation in children. Spine. Feb 15 2008;33(4):379-383.
Top Contributors:
Jamie Gomez MD
Case Images courtesy of Ryan Muchow MD