Key Points:
Most common skeletal dysplasia.
Most common cause of disproportionate dwarfism.
Normal intelligence.
Characterized by foramen magnum stenosis, thoracolumbar kyphosis, spinal stenosis, genu varum and short stature.
Description:
A rhizomelic form of dwarfism, where the proximal portion of the limb segment is shorter than the distal portion of the limb segment. The trunk is normal in size. It is the most common skeletal dysplasia. The term achondroplasia means "without cartilage formation" (Parrot, 1878).
Epidemiology:
This condition occurs in 1 in 30,000 live births annually (Oberklaid, 1979).
Clinical Findings:
Patients with achondroplasia have a normal sized trunk with the humerus and femur shorter than forearm and tibia (rhizomelic shortening). The skull shows frontal bossing with midface hypoplasia with a button nose and small nasal bridge. Hands have a trident appearance. Early in life, patients with achondroplasia can develop thoracolumbar kyphosis. Additionally, they can develop excessive lordosis of the lumbosacral spine and spinal stenosis. The lower extremities can have a bowing deformity. There is a high prevalence of discoid lateral menisci in this population. Upper extremity manifestations include trident hands and radial head subluxation.
Imaging Studies:
Recommended imaging when achondroplasia is suspected clinically are AP and lateral views of the entire spine as well as AP bilateral lower extremity films. There may be thoracolumbar kyphosis with anterior wedging of the vertebrae. Narrowing of the interpedicular distance in the lumbar spine is pathognomonic of achondroplasia
.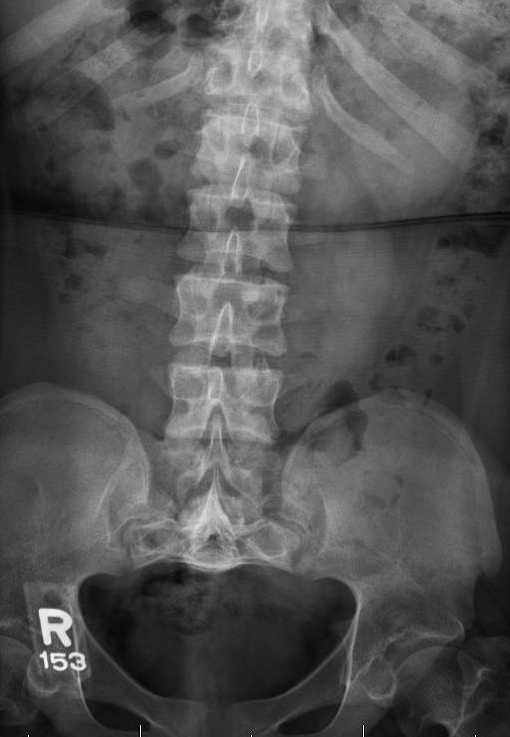 Achondroplasia is one of the few skeletal dysplasias in which upper cervical instability is not common. The pelvis is described as champagne glass shaped. Varus deformities of the lower extremity are commonly seen. These may arise in the proximal tibia, distal tibia, distal femur or a combination thereof. The distal femur is usually hyperextended in the sagittal plane and there is increased anterior slope of the tibial plateau. MRI is used for evaluation of spinal stenosis and/or foramen magnum stenosis.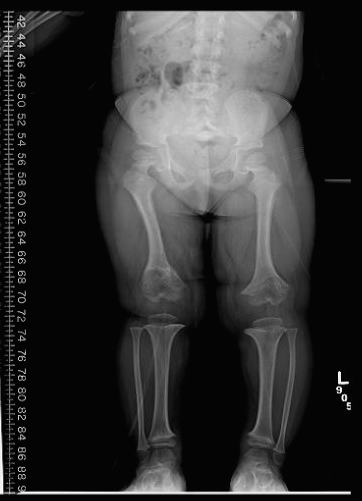 Treatment:
Foramen Magnum stenosis
Foramen magnum stenosis is the first spinal manifestation in an infant with achondroplasia. It is associated with a high rate of mortality, 2-5% (Trotter, 2005). Common presenting symptoms are respiratory difficulty with excessive snoring or apnea. Other symptoms that can present are apnea, lower cranial nerve dysfunction, difficulty swallowing, hyperreflexia, hypotonia, weakness/paresis, and clonus. The American Academy of Pediatrics recommends a sleep study and then CT/MRI if the sleep study is positive to avoid sedation needed for CT/MRI (Trotter, 2005).
Foramen magnum stenosis is usually treated in the first two years of life but affected patients may become symptomatic later in life. Treatment consists of foramen magnum decompression and upper cervical laminectomy with or without duraplasty (Bagley, 2006).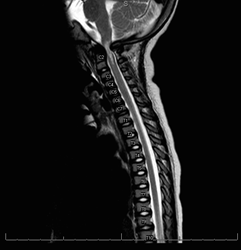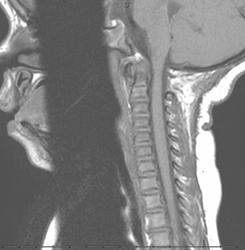 Bilateral bowing deformity
Genu varum is the usual bowing deformity of the bilateral lower extremities that occurs with achondroplasia. It is difficult to define indications for treatment. Indications for surgical intervention include the presence of symptomatic deformity, lateral thrust, and/or severe malalignment. Surgery consists of hemiepiphyseodesis or tibial and fibular osteotomies with or without femoral osteotomy. Correction may be carried out acutely or gradually with an external fixator.

Thoracolumbar kyphosis
Thoracolumbar kyphosis is often present in the newbown. (Figure 4) It is accentuated in the sitting infant because of the oversized head, trunk hypotonia, flat chest and protuberant abdomen. This usually resolves at age 12 to 18 months because of increased trunk strength and child's ability to ambulate. The frequency of kyphosis is as high as 87% at age 1-2 years old and decreased to 11% from age 5-10 years old (Kopits, 1988). It is recommended that unsupported sitting should be prohibited in children less than one year of age to prevent persistent kyphosis.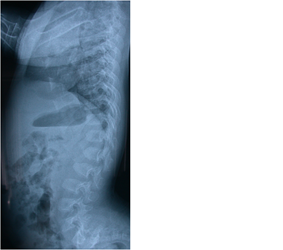 Bracing is used as needed when kyphosis is greater than 30 degrees when prone and when there is anterior vertebral wedging or posterior displacement of vertebrae at apex of deformity. Bracing should be continued until the child is walking independently, anterior corners of vertebrae reconstitute, and the fixed component of the curve stops improving.
Surgical intervention is indicated when there is kyphosis greater than 50 degrees or associated with neurological compromise. Surgery should be delayed until a minimum age of 4 years, unless there is a rapidly progressive kyphosis. Treatment options include posterior spinal fusion (PSF), anterior posterior (AP) fusion with anterior instrumentation or AP fusion with posterior instrumentation (Ain, 2004; Ain, 2004; Sarlak, 2004).
Lumbosacral Hyperlordosis
Lumbosacral hyperlordosis in achondroplasia is due to excessive anterior pelvic tilt while standing. Treatment indications are poorly defined.
Spinal stenosis
Spinal stenosis is occurs in approximately one-fourth of patients with achondroplasia. Evaluation for spinal stenosis with xrays should be considered in achondroplasia patients wishing to participate in contact or high risk activities. Treatment is indicated when there are progressive symptoms, urinary retention, severe claudication, and/or neurologic symptoms at rest. Surgical treatment include laminectomy with instrumented PSF to avoid post-laminectomy kyphosis (Ain, 2006). Decompression of the lateral recesses are included with the procedure. Dural tears are common.
Short Stature
The indications and outcomes of limb lengthening are CONTROVERSIAL.
Complications:
The medical complications associated with achondroplasia include, hydrocephalus, otolaryngeal problems (otitis media, relative adenotonsillar hypertrophy, obstructive sleep apnea) and obesity.
The surgical complications associated with achondroplasia are neurological injuries secondary to intervention for procedures mentioned above.
Related Videos:
Peer Reviewed Video Learning
View Related Videos
References:
Ain MC, Browne JA: Spinal arthrodesis with instrumentation for thoracolumbar kyphosis in pediatric achondroplasia. Spine 2004;29:2075-2080.
Ain MC, Shirley ED: Achondroplasia: Manifestations and Treatment. JAAOS 2009; 17(4): 231-241.
Ain MC, Shirley ED: Spinal fusion for kyphosis in achondroplasia. J Pediatr Orthop 2004;24:541-545.
Ain MC, Shirley ED, Pirouzmanesh A, Hariri A, Carson BS: Postlaminectomy kyphosis in the skeletally immature achondroplast. Spine 2006;31:197-201.
Bagley CA, Pindrik JA, Bookland MJ, Camara-Quintana JQ, Carson BS: Cervicomedullary decompression for foramen magnum stenosis in achondroplasia. J Neurosurg 2006;104(3 suppl):166-172.
Bailey JA II : Orthopaedic aspects of achondroplasia. J Bone Joint Surg Am 1970;52:1285-1301
Horton WA: Recent milestones in achondroplasia research. Am J Med Genet A 2006;140:166-169.
Kopits SE: Thoracolumbar kyphosis and lumbosacral hyperlordosis in achondroplastic children. Basic Life Sci 1988;48:241-255.
Oberklaid F, Danks DM, Jensen F, Stace L, Rosshandler S: Achondroplasia and hypochondroplasia: Comments on frequency, mutation rate, and radiological features in skull and spine. J Med Genet 1979;16:140-146.
Parrot MJ: Sur la malformation achondroplasique et le Dieu Phtah. Bull Soc Anthropol 1878;1:296-308.
Sarlak AY, Buluç L, Anik Y, Memis¸og˘lu K, Kurtgöz B: Treatment of fixed thoracolumbar kyphosis in immature achondroplastic patient: Posterior column resection combined with segmental pedicle screw fixation and posterolateral fusion. Eur Spine J 2004; 13:458-461.
Trotter TL, Hall JG, American Academy of Pediatrics Committee on Genetics: Health supervision for children with achondroplasia. Pediatrics 2005;116: 771-783.
Unger S: A genetic approach to the diagnosis of skeletal dysplasia. Clin Orthop Relat Res 2002;401:32-38.
Top Contributors:
Janay Mckie MD
Images courtesy of Vinitha Shenava MD