POSNA Black History Month Highlight: Dr. Keisha DePass
The POSNA Diversity Taskforce wants to remember Dr. Keisha DePass, who in 2006 became the first black female pediatric orthopaedic surgeon to become a POSNA member in the United States.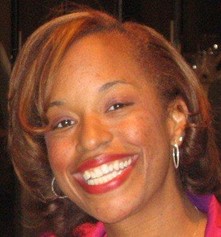 Keisha DePass, M.D.
(1975-2010)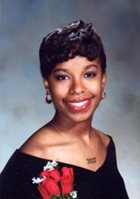 Dr. Keisha DePass was born on July 23, 1975 at the Maimonides Medical Center in Brooklyn, NY. For the first 7 years of her life she lived with her father, Keith DePass, who was a high ranking politician on the island of Jamaica. Afterwards, she moved back to New York to live with her mother, Vinette Greenwood. As her mother recalled, ever since Keisha was a child, she wanted to be a doctor and she quickly displayed the drive and aptitude to achieve this goal. While attending the Brooklyn Technical High School she was an active cheerleader and year book editor. In 1992, she matriculated at Cornell University for her undergraduate studies and later to the Weill Cornell School of Medicine where she graduated in 2000.
Picture 1 (right): Graduation picture from Brooklyn Technical High School, 1992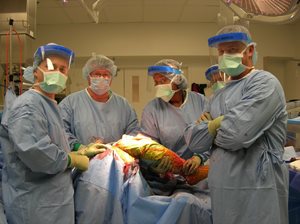 While a New Yorker to the bone, she could not pass up the opportunity to do her orthopaedic residency training at the Johns Hopkins Hospital in Baltimore, MD, which she started in 2000, becoming the second black female orthopaedic resident to train at the program. Her coresidents described her as completely unflappable, making everything look easy despite the rigors of residency training.
Picture 2 (left): Dr. DePass in the operating room during residency at Johns Hopkins. Pictured from left to right: Dr. Jacob Buchowski (Wash U.), Dr. Carl Johnson (retired), Steve (surg. tech.), Dr. Phillip Neubauer (Mercy Hosp.)
During residency, she began to date her future husband, Amar Thomas who worked in the same place Keisha spent most of her time, the operating room! In 2005, Keisha graduated from residency along with future pediatric orthopaedic surgeon and POSNA member, Eric Shirley. Heavily influenced by POSNA members Dr. Michael Ain, Paul Sponseller, Nancy Miller, and Arabella Leet, Keisha pursued fellowship training in pediatric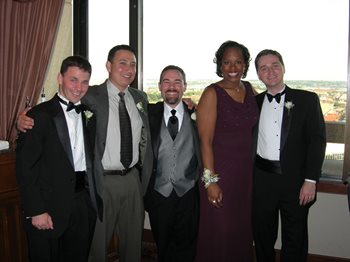 orthopaedics at the A.I. Dupont Hospital, which she completed in 2006. In that same year she became the first black female POSNA member, nearly 35 years after Dr. Liebe Diamond, became the first ever female POSNA member.
Picture 3 (right): Dr. Depass at her residency graduation, pictured with her coresidents from left to right: Dr. Eric Shirley, Dr. Ricardo Gonzales, Dr. Marc Chodos, and Dr. Jacob Buchowski.
After her fellowship training, Dr. DePass joined Dr. Andrew Abramowitz's practice in Baltimore, MD where she took care of the broad spectrum of pediatric orthopaedic pathology, with a special passion for children with cerebral palsy. Shortly after starting to practice independently, Keisha and Amar got married.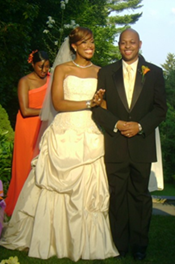 In late 2009, Dr. DePass and Amar were excited to discover that she was pregnant, however she had complications during pregnancy and gave birth prematurely to a girl they named MiKayla Grace. Unfortunately, the baby did not survive long after she gave birth. She started to mobilize shortly after this time, and while running an errand she collapsed short of breath. On January 19, 2010, Keisha DePass passed away from what was found to be a pulmonary embolic event after pregnancy. At the time of her death, she was survived by her husband Amar Thomas, mother Vinette Greenwood, along with her sisters and brother. We certainly lost Keisha too soon, as she was on track to be a true leader in the field of pediatric orthopaedics.
Picture 4 (left): Dr. DePass on her wedding day with her husband Amar Thomas. Her best friend, Tracey Irby is pictured behind her.
Below are comments from surgeons who knew Dr. Keisha DePass well:
Dr. Michael Ain -
Dr. DePass' Program Director at Johns Hopkins
Keisha was an amazing physician. Very diligent and hardworking and sensitive.
Dr. Eric Shirley -
Dr. DePass' Co-Resident at Johns Hopkins
Keisha was able to connect with everyone in the hospital at Hopkins. As tough as residency was, Keisha made everything seem so easy. It was an honor to train with her and have her as a friend and classmate.
Dr. Suken Shah -
Dr. DePass' Fellowship Director at A.I. Dupont Hospital for Children
Keisha was an outstanding fellow with great reviews from the faculty and residents that worked with her. She was always the most cheerful, pleasant person in the room and we miss her dearly.
Dr. William MacKenzie -
Dr. DePass' Fellowship Chair at A.I. Dupont Hospital for Children
I remember Keisha very well; smart, energetic, outgoing and a good physician.Her death was a shock to all of us, sudden and at a time of great joy.
Dr. Freeman Miller -
Dr. DePass' Fellowship Faculty at A.I. Dupont Hospital for Children
Keisha had a natural connection with families and children. We wanted her to stay with us after fellowship! She was very much service minded. Never pretentious, always sharing. Extremely well skilled surgeon and competent. Such a unique personality!
Dr. Andrew Abramowitz -
Dr. DePass' partner at her first practice
Everyone I knew loved Keisha DePass…her patients, the staff, her colleagues, truly everyone. When she joined my practice, it grew tremendously and she quickly became a member of our family. She was a great colleague and wonderful friend.