POSNA Black History Month Highlight: Dr. Alvin Crawford
The POSNA Diversity Task Force wants to acknowledge and celebrate the wonderful career of Dr. Alvin H. Crawford, the first African American member of POSNA.
Alvin Crawford, MD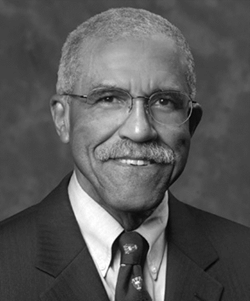 Dr. Alvin H. Crawford was the first African American member of the Pediatric Orthopaedic Society of North America. He grew up in the segregated suburb of Orange Mound in Memphis, Tennessee, one of the first planned African American communities post-slavery. "It was populated with single family homes, no projects; physicians, dentist, grocers, and the pharmacist were all African American". Of Orange Mound, Dr. Crawford shares, "it was an idyllic environment to grow up in. I didn't know direct racism early on because we hardly ever had to leave our community. We were poor, but it never mattered, we were all in it together. Life was good until perhaps first grade when factories, water treatment plants, and other essential commodities for whatever reasons could serve the city 'better' if they were located in our neighborhood Orange Mound, go figure."
Dr. Crawford graduated cum laude from Tennessee State University in 1960, earning degrees in Chemistry and Music. "I had planned since seventh grade to be a musician but in my sophomore year, realized the competition from conservatory trained musicians were ahead of me. I lamented to my brother who voiced that I always liked challenges, why not consider medicine. I was guilty of always doing whatever my big brother told me, and went for it, not withstanding, as a music major, had no science classes whatsoever. From there it was all of the prerequisites simultaneously, but luck if not hard work and studying allowed me to finish in three years at the top of my class and be accepted to medical school."
He matriculated at Meharry Medical College in the fall of 1960, requiring his family to take out a second mortgage on their house. The more affordable local option of University of Tennessee College of Medicine (UTCOM) had never accepted an African American and so he hadn't applied. Community leaders and the NAACP in Memphis challenged the UTCOM about why there had been no Black students to attend and the response was that there were no qualified African American applicants at that time. The community leaders then sent in his test scores and college grades and he was ultimately granted admission to UTCOM. He made the difficult decision to leave Meharry Medical College where he had already begun his first year to become the first African American to attend UTCOM and in fact became the first African American in Tennessee to attend and graduate from a southern non-HBCU medical school, finishing well in the upper third of his class in 1964. "I had to literally start over because the UT Med School didn't consider Meharry an accredited school and they would not accept any of my grades." This was one of the many "firsts" that Dr. Crawford would achieve in his life and career.
Dr. Crawford then entered the Navy and completed his internship at the U.S. Naval Hospital Chelsea and served two years in Southeast Asia. He then returned to Boston to complete his residency in the Harvard Combined Orthopaedic Residency Program, winning the Boston Orthopaedic Club Outstanding Resident Award, while still as an active member of the Navy, and became the first African American to complete the Harvard residency program. He performed the prestigious Otto E. Aufranc Fellowship in Adult Reconstructive Surgery and then a fellowship in pediatric orthopaedics at Boston Children's Hospital. He was inspired to pursue pediatric orthopaedics because, "children want to get better and go out and play with their friends. And they don't really care what you look like, or who you are, so long as you can get them back to playing with their friends. And they love you forever."
Upon completing training, Dr. Crawford organized the first pediatric orthopedics and scoliosis service based at the San Diego Naval Hospital, where he served as Chief from 1971-1975. He was joined in his efforts in San Diego by one of his former junior residents - Tony Herring, whom Dr. Crawford had helped secure a position at the Naval Hospital to fulfill his military commitment. Their friendship, forged in residency and strengthened through their Navy service, has continued throughout their orthopaedic lives. At the end of his military service, Dr. Crawford was selected for the OREF Carl Berg Traveling Fellowship and then did a 6-month research fellowship at the Alfred I. DuPont Institute.

His first academic job outside of the military was at Henry Ford Hospital in Detroit. He was then recruited to Cincinnati to start an academic pediatric orthopaedic program there. He became the Director of Orthopaedic Surgery at Cincinnati Children's Hospital Medical Center in 1977 and remained chief for 29 years. For six years, Dr. Crawford was the only in-house fellowship trained pediatric orthopaedic surgeon when POSNA member Dennis Roy joined him. The program grew to become one of the largest and most highly ranked pediatric orthopaedic programs in the country. At Cincinnati, he developed minimally invasive approaches to scoliosis correction and became one of the nation's foremost authorities on video-assisted thoracoscopic surgery. He has been a prolific academic surgeon, authoring more than 200 publications, 60 book chapters, and authored/co-authored six books. Upon retirement, he was honored with Chairs in his name in Pediatric Orthopaedics and Pediatric Spine Surgery. Additionally, CCHMC named their scoliosis center in his honor - the Crawford Spine Center.
Dr. Crawford became an active member of POSNA in the inaugural year of the organization. Prior to the birth of POSNA, Dr. Crawford was active in the Pediatric Orthopaedic Study group. He was POSNA Presidential Guest Speaker in 2007, was the Distinguished Achievement Award Recipient of POSNA in 2014 and was inducted into the POSNA Hall of Fame in 2019. He has also been very active in the AAOS (and gave the Presidential Address in 2004) and has served in numerous leadership roles in a variety of orthopaedic organizations, including serving as the first African American President of the Scoliosis Research Society.
Dr. Crawford has had a longstanding commitment to inclusive orthopaedic education, both domestically and abroad. He has educated hundreds of orthopaedic surgery residents and 57 pediatric orthopaedic fellows, including many from outside the United States. Dr. Crawford has been committed to advancing pediatric and scoliosis surgery around the world and has taught and/or operated in 43 countries. In acknowledgement of his tremendous efforts and service, in 2007 he was the recipient of the AAOS Diversity Award for his commitment to increasing diversity in the fields of orthopaedics, and particularly in scoliosis surgery. More recently, Dr. Crawford started Black Men in Medicine Cincinnati (BMIMC), a mentoring program for African American male medical students, a diminishing, under-represented and at-risk group. The mentors work with the students and serve as examples of the possibilities - the mentoring philosophy for the kids follows the logic "it's hard to be what you can't see".
He has been the recipient of an array of awards and accolades. He is most proud of Honoris Causa awards from the University of Ioannina Greece and the University of Cincinnati College of Medicine for his contributions to the advancement of medical science. Additional information about his life and his many accomplishments and awards can be found in the excellent article in AAOS Now by Drs. Johnson and Samora at
https://www.aaos.org/aaosnow/2019/mar/youraaos/youraaos02/
, in a feature by Harvard Medical School at
https://perspectivesofchange.hms.harvard.edu/node/66
and a recent highlight from his alma mater Tennessee State at
https://files.constantcontact.com/c70613bf301/fc9532fc-8c9f-4747-b9b2-6898bbec0c0a.pdf
His passion for music has continued throughout his life. He started playing the clarinet in 7
th
grade, started college as a Music major, and has continued to play in classical and jazz bands. He believes that his love of surgery and music have been mutually beneficial and helped him become better in both areas, because "if you're going to play in a group, then everyone has to play in the same key, you have to have a rhythm section, a bass section, all of the parts have to hang together…and if you're going to be an orthopedic surgeon, you have to have an OR team, nurses, technicians…you have to stay in the same key to make it work, and you all have to work together."
Dr. Crawford has been married to his wife Alva for 58 years and together they have two children Alvin (Charlotte) and Carole, and he is the proud grandfather to Mia, Elle, and Uma.