Black History Month Highlight: Howard R. Epps, MD
In honor of Black History Month, POSNA's JEDI Committee highlights outstanding Black pediatric orthopaedic surgeons
An Interview with Howard R. Epps, MD
Interviewer: Geordy Gantsoudes, MD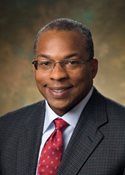 Howard R. Epps, MD, resides in Houston, Texas. A native Washingtonian, Dr. Epps received his undergraduate degree from Harvard College and earned his medical degree from Johns Hopkins University School of Medicine. After completing his orthopaedic surgery residency at Harvard, he pursued a fellowship in pediatric orthopaedic surgery at the Hospital for Sick Children in Toronto, Canada. He has worked at Fondren Orthopedic Group, LLP and Texas Children's Hospital, where he was Assistant Chief of Orthopaedic Surgery. He is married and has two sons.
Dr. Gantsoudes: Please tell me about your path to pediatric orthopaedics.
Dr. Epps:
Well, my father is an orthopaedist, but he was a generalist. He had an interest in kids with limb deficiencies. When I was very young, I am told I used to sit on his lap and watch him sort through his slides of kids from the clinic. That piqued my interest. But then I really got interested when I did a rotation as a fourth-year medical student at Boston Children's and had a great experience there. When I did my residency, I rotated there again, and that pretty much cemented it.
Dr. Gantsoudes: So your dad had a pretty varied practice for a generalist?
Dr. Epps:
He was a generalist, but he was in academics. He did what was called a "Crippled Children's Clinic" at DC General Hospital, which no longer exists.
Dr. Gantsoudes: And where was he?
Dr. Epps:
He was at Howard University.
Dr. Gantsoudes: Can you please tell us about your current pediatric orthopaedic practice?
Dr. Epps:
I have interest in trauma, infection, and limb deformity as well. I think those three are the main areas of interest.
Dr. Gantsoudes: Is there someone in your life who was instrumental to your success as an orthopaedic mentor? I mean, I know your father is probably the biggest one, but is there anyone besides your father?
Dr. Epps:
Yes, my father was influential, but my mother was as well. She was a pediatrician in public health and she was a very intelligent, motivated woman. She always had high expectations for us. I think she had a profound influence on me as well.
Dr. Gantsoudes: Do you have siblings? Did they go into medicine as well?
Dr. Epps:
Yes, I had a brother who was an ophthalmologist and a sister who is a dermatologist. My other brother went to business school.
Dr. Gantsoudes: He escaped, huh?
Dr. Epps:
Yeah (laughing)
Dr. Gantsoudes: So, how do you measure success in your orthopaedic practice?
Dr. Epps:
I measure success the standard way, with Press-Ganey scores and things like that. But I really get a lot of satisfaction from the personal things that I get from patients. The drawings, the thank you notes that kids have done, or pictures that they give me. We have a scrapbook where I save things like that.
Dr. Gantsoudes: Yeah, I make sure they're prominently displayed in my office. So whenever I have a bad day, I can just look to my right and see that everything's okay. So what is it that makes you get out of bed every day?
Dr. Epps:
I think it's just the opportunity to know that you can make a difference in somebody's life and not just in the short term. Really what we do has an effect on kids' lives for their entirety. To know that you can change the trajectory of somebody's life I think is what really drives me.
Dr. Gantsoudes: If there was one thing you could change about medicine, what would that be?
Dr. Epps:
I guess it seems like there's always more bureaucracy, whether it's prescribing opioids or medical records requirements. Sometimes it seems there is always something interfering with how you practice. And I think that's probably the main thing.
Dr. Gantsoudes:
When you think about pediatric orthopaedics in the future, what are you most excited or hopeful for?
Dr. Epps:
Well, I think I'm most excited about the possibility of genetic advances and how they could possibly be solutions for some of these syndromes for which we don't have great answers. We just deal with orthopaedic manifestations of them. Spinal Muscular Atrophy is an example where a drug may fundamentally change management of that condition. I can see a lot more of treatments like that coming down the pike. It will really change how certain problems are managed, and for some, they won't necessarily need us.
There will always be a need for people to take care of kids with injuries, infections, hip dysplasia, clubfeet, and things like that. So while genetic advances may impact our practices a little bit, there will still be plenty of opportunities for us to help kids in the future.
Dr. Gantsoudes: I appreciate your time. Thank you so much for doing this.