Black History Month Highlight: Carla Bridges, MD
In honor of Black History Month, POSNA's JEDI Committee highlights outstanding Black pediatric orthopaedic surgeons
An Interview with Carla Bridges, MD
Interviewer: Ellen Raney, MD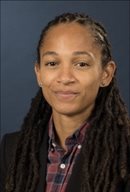 Dr. Carla Bridges is currently a pediatric orthopaedic surgery fellow at Phoenix Children's Hospital in Arizona. She grew up in Baton Rouge, Louisiana, and later moved to Orlando, Florida. After graduating from Olympia High School in Orlando, she went on to attend The University of South Florida in Tampa where she double majored in Bio-medical Sciences and Biology. She then moved to Atlanta, Georgia, where she received her Doctor of Medicine degree from Morehouse School of Medicine. She attended Medical College of Wisconsin in Milwaukee where she completed her residency. She completed a fellowship in pediatric orthopaedic surgery at Shriner's Hospital for Children, Portland, Oregon, in 2021. She was an Nth Dimensions summer internship scholar and remains actively involved with the organization. She is also a member of several orthopaedic societies. She is currently the communications committee chair for Pride Ortho Inc. She loves to travel, has been to 21 countries, and has lived in seven states.
Dr. Raney: Please tell us about your path to pediatric orthopaedics.
Dr. Bridges:
My path to orthopaedics started my senior year in high school. I signed up for a course called
Care and Prevention for the Athlete
taught by the school's athletic trainer Mr. J.P. Hamilton. He taught us basic first aid and athletic training skills. However, it was a video of an ACL reconstruction and his palpable passion for sports medicine that had the greatest impact on me. After completing his course, I had a clear mission—go to college so I could go to medical school and become an orthopaedic surgeon. My first year of medical school I met Dr. Bonnie Simpson-Mason, founder of Nth Dimensions. She was the first black orthopaedic surgeon I'd ever met. During my first sawbones workshop with them, I just kept staring at her and thinking, if she can do it, so can I. I was not introduced to pediatric orthopaedics until my intern year in residency. The first time I rotated on pediatric orthopaedics, I immediately noticed a difference in energy levels going from the adult hospital to the pediatric one. It was brighter, employees seemed happier, attendings were more easygoing and understanding, patients healed better and bounced back quickly, and families were immensely appreciative of the care provided by all teams involved. I also noticed that pediatric orthopaedics had been the most welcoming field in terms of diversity in the field of orthopaedics. When I discovered there is a place for a sports medicine trained orthopaedic surgeon in the world of pediatrics, I was sold. Every peds rotation continued to feel like the right fit. It also helps that pediatric patients can endure so much, while still keeping smiles on their faces. All around, it is a truly rewarding field.
Dr. Raney: Can you please tell us about your current pediatric orthopaedic practice?
Dr. Bridges:
I am currently a fellow in pediatric orthopaedics at Phoenix Children's Hospital. I previously completed a fellowship at Shriners Hospital for Children in Portland, and I have an upcoming fellowship in sports medicine at Detroit Medical Center starting in summer 2022. My mission is to provide safe, effective, and efficient care to the pediatric and adolescent underserved communities, and my training in two pediatric fellowships and a future sports medicine fellowship will prepare me to do just that. I want to achieve this goal by surrounding myself with a team of dedicated and supportive partners, while also living near friends and family. My predominate goal is to have a thriving general pediatric orthopaedic and pediatric sports medicine practice where I provide treatment for trauma, infection, clubfoot, DDH, hip & knee preservation, LLD, limb malalignment, patellar instability, FAI and arthroscopic treatments including shoulders, hips, knees, and ankles.
Dr. Raney: Is there someone in your life that was instrumental to your success?
Dr. Bridges:
Wow, so many people, but if I must choose one, I must go with the initial source of my motivation and the person who made sure my journey to this point in my life was free from as many financial strains as possible, my father Dr. Charlie Haywood Bridges. Growing up, I watched how hard he worked to provide for his family, and he held us to the same expectations. It was up to us though to figure out how to accomplish this through something we genuinely enjoyed doing every day.
Dr. Raney: How do you measure success in your orthopaedic practice?
Dr. Bridges:
The feeling that I helped improve the well-being of a patient whether in the operating room, based on outcomes, or with a simple explanation in clinic that cleared up any confusion and left a family feeling at ease and more confident than before they came in. I also measure success by a practice run by a team where there is mutual respect, and everyone enjoys what they do.
Dr. Raney: What is it that makes you get out of bed every day?
Dr. Bridges:
The opportunity to learn something new, but it is also expected of me to get up and go to work by the staff, my attendings, residents, co-fellows, and most importantly my patients. I can't practice what I have learned and learn something new to add to my practice by staying in bed. I can't make a difference in someone's life or in my own by staying in bed.
Dr. Raney: If there was one thing that you could change about medicine (or your experience in medicine), what would it be?
Dr. Bridges:
That by the snap of a finger, the lack of diversity, equity, and inclusion, especially in the field of orthopaedics, were fixed and that all physicians in the position of teaching future physicians knew exactly what it meant to be a good mentor.
Dr. Raney: When you think about pediatric orthopaedics in the future, what are you most excited about/hopeful for?
Dr. Bridges:
All of the innovative thinking and research coming out of many pediatric orthopaedic institutions leaves me hopeful that we are continuing to search for better answers to treatments for many of these life altering conditions and hopefully one day finding cures.
Also, every year I have been in training, I feel like I am seeing a shift and a true effort in improving diversity, equity, and inclusion in the field of orthopaedics. I am excited for what's to come.