Black History Month Highlight: Aki S. Puryear, MD, FRCS
In honor of Black History Month, POSNA's JEDI Committee highlights outstanding Black pediatric orthopaedic surgeons
An Interview with Aki S. Puryear, MD, MHA
Interviewer: Jaysson T. Brooks, MD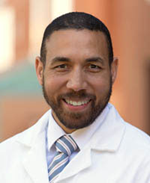 Aki S. Puryear, MD, MHA, is a full professor at Saint Louis University and a board certified and fellowship trained pediatric orthopaedic surgeon. He began his educational journey as a Biomedical Engineering major at Case Western Reserve University, Cleveland, Ohio. He then went on to medical school at the Case Western Reserve University School of Medicine and in 1996, he matriculated into an orthopaedic surgery residency program at the University of Michigan. He then pursued subspecialty fellowship training in pediatric orthopaedics at the A.I. duPont Institute, Wilmington, Delaware. In addition to his academic responsibilities, he also serves as vice chair of the orthopaedic department at Saint Louis University.
Dr. Brooks: How did your parents and their careers influence you to pursue medicine?
Dr. Puryear:
My mom was an artist and my dad worked in human resources at a college. I did have a couple other family members like my uncle who was a famous cardiologist and dean at Yale University and two of my grandmother's brothers who were physicians. So, while my parents weren't in medicine, I had clear examples in my family of people who had achieved their dreams to be physicians. So, my parents and family had an expectation that everyone should go to college and do something great afterwards.
Dr. Brooks: Tell us about your decision and pathway to pediatric orthopaedics.
Dr. Puryear
: In my orthopaedic surgery residency at University of Michigan, I met with Fran Farley to talk about which fellowship specialties I might be interested in as a PGY3. At the time, I told her that I wanted to keep my options open, but I was very sure that the two specialties I would never pursue were pediatrics and spine. However, Bob Hensinger was my department chair, and he was very influential in opening up the world of pediatric orthopaedics to me. I loved the variety of surgical cases I could do in a day and truly by the end of my PGY4 year, I was sold on the subspecialty.
Dr. Brooks: Who would you say are your mentors within POSNA?
Dr. Puryear
: Peter Sturm is my current POSNA mentor. But in the past and even now, Bob Hensinger and Will McKenzie were truly instrumental in helping my career in pediatric orthopaedics to grow and thrive. Of course, I also have to mention Alvin Crawford who is the godfather for black pediatric orthopaedic surgeons and pediatric spine surgeons in general.
Dr. Brooks: Your current orthopaedic practice is successful and busy; can you tell us about it?
Dr. Puryear
: My practice is usually one to two spinal fusions a week and I also do most of the taylor spatial frames at my institution. It's pretty interesting because my favorite procedure in pediatric orthopaedics is a Salter osteotomy; however, I got drawn into spine by George Thompson. When I was interviewing for fellowship, he knew I had roots in the Cleveland, Ohio, area and he told me to make sure I got good in spine so I could join him for practice. When George Thompson speaks, you listen, so when I did my fellowship at duPont, I made sure to do as many spine cases as possible. While I never was able to join him in practice, this experience really showed me how much I loved correcting spine deformities, and it has remained a large part of my practice.
Dr. Brooks: I can't confirm that this is true, but I think you might be the only Black pediatric orthopaedic surgeon in the state of Missouri or at least one of two Black pediatric orthopaedic surgeons. In your experience, what do you think it means for your patients to be treated by you?
Dr. Puryear:
Well interestingly, because of my lighter skin tone, I often get confused for being Hispanic or Dominican or even some other surprising races/ethnicities. This allows me to try my best to connect with patients and their parents in whatever way will make them most comfortable. Particularly for my Black patients, you can tell that their entire demeanor and tone change when I walk into the room, denoting that they feel a connection with me and trust that we are going to work together to develop a plan of care. There is sometimes so much mistrust, due to the racial history of America, that patients have issues connecting with many well-meaning surgeons of different races/ethnicities. I truly do feel like I treat all of my patients and their parents the same, but for the patients that I know come from lower income environments or those that happen to be Black, I truly try to encourage them that they could also one day be an orthopaedic surgeon and tell them the pathway to eventually realize this dream.
Dr. Brooks: When you think about pediatric orthopaedics in the future, what are you most excited/hopeful for?
Dr. Puryear
: Fortunately for peds ortho, we have stayed at the forefront of diversity, but I think our subspecialty can do even more. We need to make sure our pediatric orthopaedic workforce is inviting for female physicians, particularly when it comes to the leadership of POSNA. I would love for there to be more pediatric orthopaedic surgeons who share the race/ethnicities of their patients because we know this leads to be better care.